Come and join us on World AIDS Day to highlight 40 years of activism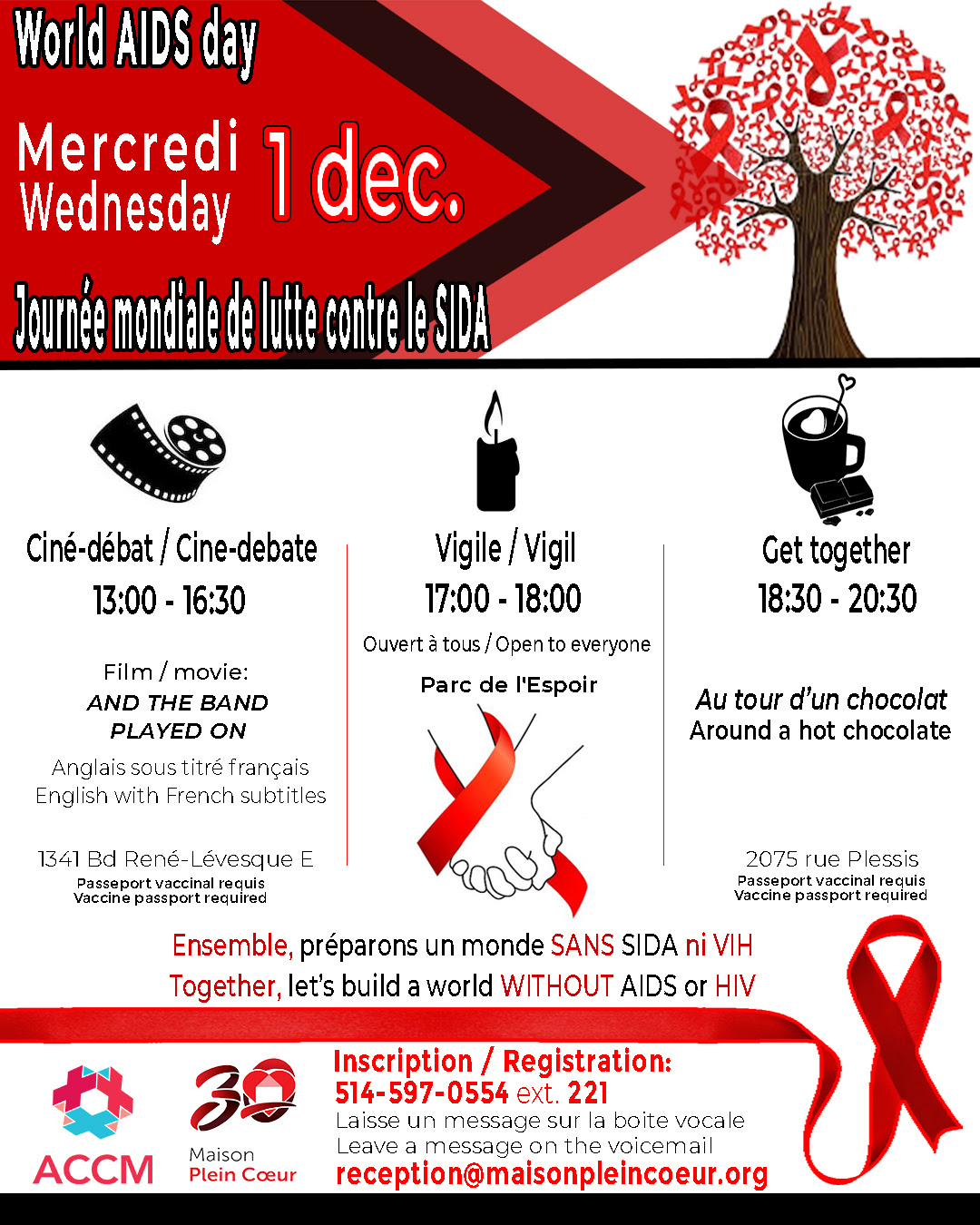 Cine-debate @ 1pm (1341  René-Lévesque East)
Co-hosted by ACCM & MPC.
Registration: reception@maisonpleincoeur.org
Vaccine passport required.
https://www.facebook.com/events/426168119128952
A Cine-debate will be organized for world aids day.
The movie presented is And The Band Played On.
If you would like to be part of this activity, you can contact Yannick-S. at the front desk.
By phone: 514-597-0554 post 221
By e-mail: reception@maisonpleincoeur.orgTo be noted:
You will need to present your vaccine passport and an ID before entering.
The movie will be in English and Subtitled in French.
---
Vigil at Parc de l'Espoir @ 5pm
https://www.facebook.com/events/278529427613036/
Pour cette 33e édition de la vigile montréalaise du 1er décembre, Journée mondiale de lutte contre le sida, le comité vigile de la TOMS (@Table de organismes communautaires montréalais de lutte contre le VIH/sida) vous invite à vous joindre à nous au Parc de l'Espoir, le 1er décembre prochain à 17h.Cette année, les communautés touchées par le VIH se sont prononcées pour une vigile soulignant les 40 ans de militantismes de nos communautés.Ensemble, nous commémorerons nos disparu.e.s et nous célébrerons les vivant.e.s. Nous nous rappellerons d'où l'on vient, les avancées parcourues et celles qu'il nous reste à gagner.Nous aurons la chance d'avoir la participation de représentant.e.s des communautés dans cet espace.
---
Gathering @ 6:30pm (ACCM 2075 Plessis)
co-hosted by ACCM & MPC.
Registration: support@accmontreal.org
Vaccine passport required.
https://www.facebook.com/events/1929350040598596
Co-hosted by ACCM and Maison Plein Coeur (MPC)This event is a gathering for us to simply be together around a hot chocolate. This event is happening after the vigil at Parc de l'Espoir.Since this is a larger gathering, valid vaccine passports are required. Priority will be given to members.Register > support@accmontreal.org